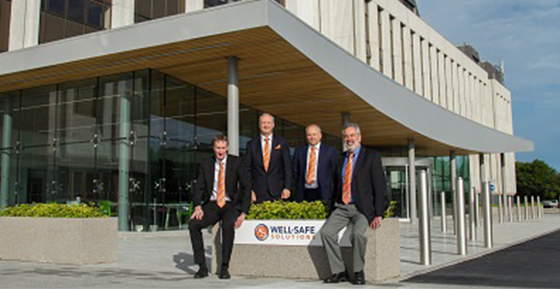 Well-Safe Solutions, a new entrant to the decommissioning market, has further strengthened its senior team with the appointment of Jim Christie as director of programmes.
The specialist well abandonment company, launched in July this year, has already assembled a senior team of eight well-known industry experts and now employs 20 people.
Well-Safe has just signed a five year lease for 4,400 square feet to accommodate over 60 people at Hill of Rubislaw in Aberdeen and will be moving in this week. The prestigious, newly refurbished offices have flexible open-plan and office space which can be increased as the company grows.
Aiming to become a major tier 1 well abandonment service company, Well-Safe will provide a fully integrated package using its own bespoke marine assets to help oil and gas operators to meet the challenges of safe and cost-efficient decommissioning of subsea wells.
The appointment of Mr Christie follows hot on the heels of the company's first acquisition and recruitment of the chief executive officer, a chief technical officer and commercial director.
Formerly head of decommissioning with the OGA, Mr Christie has 35 years' experience in oil and gas, civil engineering, construction, refining, power, transportation and ship-building with extensive expertise in offshore decommissioning in the US and the UK, working with owners, regulators and the supply chain.
Speaking at Offshore Europe, where Well-Safe Solutions has a high profile presence in the Decom Zone, founder and executive director, Mark Patterson, said: "Jim's appointment is highly significant and a major boost in our ambition to become a leader in plug and abandonment in the decommissioning sector.
"Retaining and sharing lessons learned, we will deliver safe, efficient well P&A operations in collaboration with our clients and stakeholders which result in significant cost reductions.
"The response from industry since our launch has been incredible and we are gaining huge support for our complete package offering."
As head of decommissioning for the OGA, Jim was responsible for the development of the UK's decommissioning strategy, working in collaboration with the industry and government.
"As we seek to work hand-in-hand with the regulator to support operators in navigating the complex regulatory process, with a view to driving change and transparency while ensuring tax efficiency, Jim's experience will be invaluable to our team," added Mr Patterson.
Prior to his role at the OGA, Mr Christie was global decommissioning projects manager with Marathon Oil in Houston. He joined Marathon in 1984 and has held various project management and project assurance roles for the operator, including working on decommissioning of the Brae Field.
Well-Safe has also announced the appointment of a director of finance. Alan Cormack joins the company with immediate effect. A qualified accountant with ten years' experience in senior finance roles in the oil and gas industry, Mr Cormack joins from Raeburn Recruitment where he was head of finance. Before that, he worked with Mr Patterson as director of finance at Nautronix for almost a decade.
Mr Patterson said: "Having Alan on board to take care of all our financial affairs is ideal. Having worked closely with him in the past, I have the utmost respect for and trust in his ability. He is a great addition to the team and will be instrumental in developing our back office support."