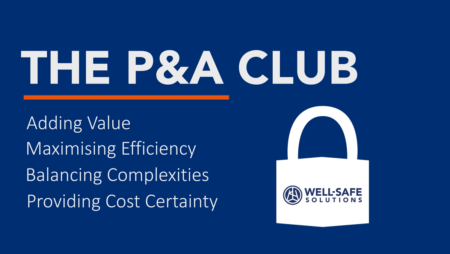 Being part of our Plug and Abandonment Club will give you access to our unique vehicle to de-risk your profile of well inventory, with fixed rate guarantees, flexible delivery options, and future budget certainty. The P&A Club will provide an open and trusted knowledge sharing platform which helps to deliver continuous improvement to delivery performance driving, future proof solutions within a safe, collaborative environment.
We own and operate the Well-Safe Guardian, currently being configured to be the first dedicated well-decommissioning semi-submersible in the world. Owning this asset enables Well-Safe to provide cost certainty for the largest component cost in well decommissioning: the cost of the rig. Employing the same repeatable processes, with a constant crew of specialists and long-term relationships with our subcontractors, builds trust within the team, and provides our clients with a much higher degree of economic confidence.
By arranging multiple work scopes into continuous campaigns, we continually absorb and utilise lessons learned in the planning and execution of our well decommissioning projects, thereby maximizing efficiency.
Well-Safe Solutions are adding value to clients' well decommissioning scope by providing highly skilled abandonment engineers using bespoke processes to design & deliver safe & compliant projects.
Continuous and diligent examination of risks & opportunities versus project requirements & economics, all within a safe & compliant working environment, means that Well-Safe are experts at balancing complexities for project success.