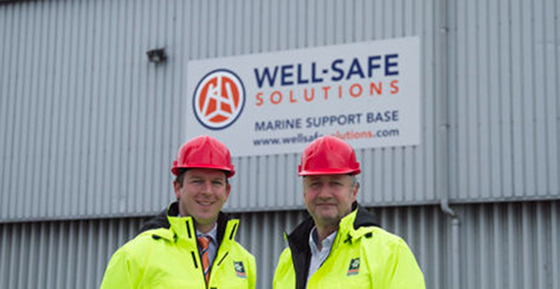 Well-Safe Solutions, the Aberdeen-based well abandonment specialist, has chosen to locate its onshore marine base in the port of Dundee.
Well-Safe Solutions has secured two acres of quayside facilities with access to 40,000 square feet of covered space at the Port of Dundee for its marine assets.
Combining a wealth of subsea oil and gas expertise and experience with dedicated marine assets and equipment, Well-Safe Solutions is the first-of-its-kind "Tier 1" company with complete P&A capability from front-end engineering and design to project execution.
The Port of Dundee, which is rapidly establishing itself as a North Sea decommissioning hub, will provide Well-Safe Solutions with direct access to deep water quaysides, heavy lifting capabilities, significant dedicated warehouse space and unconstrained access into the established and operating ANSS decommissioning facilities.
Phil Milton, CEO of Well-Safe Solutions, is originally from Dundee and welcomes the transformation of his home town in recent years.
"This marine support base in Dundee will play a crucial role in supporting our rapidly growing business. We have chosen the Port of Dundee because of the critical mass of decommissioning companies already based here and the facilities on offer. We are looking forward to fostering a strong partnership with Forth Ports.
"Personally, I'm very pleased to be able to bring business to the community in which I started out. Dundee continues its ongoing development, growing its economy and introducing new businesses with a proactive, refreshing, can-do approach."
At the port, Well-Safe Solutions will work alongside decommissioning industry leaders such as AF Offshore Decom, as part of the soon to be formed AF Dundee, waste management specialist Augean North Sea Services (ANSS), and other decommissioning specialists.
Stuart Wallace, Chief Operating Officer of Forth Ports Limited which owns and operates the Port of Dundee, said: "Well-Safe Solutions will not only be a huge asset to the Port of Dundee, but will also provide an economic boost to the Dundee area."
"Decommissioning activity in the North Sea basin is increasing and we are excited to welcome Well-Safe Solutions, who are bringing innovation and expertise to the challenges of well abandonment."
Formed in July this year, Well-Safe Solutions provides a ground-breaking approach to the safe and cost-efficient decommissioning of Well Plug and Abandonment (P&A). Set up by high profile industry veterans including Alasdair Locke, Paul Warwick and Mark Patterson, Well-Safe offers a specialist subscription well abandonment service that allows operators to meet the challenges and regulatory imperatives around decommissioning, while significantly reducing cost.