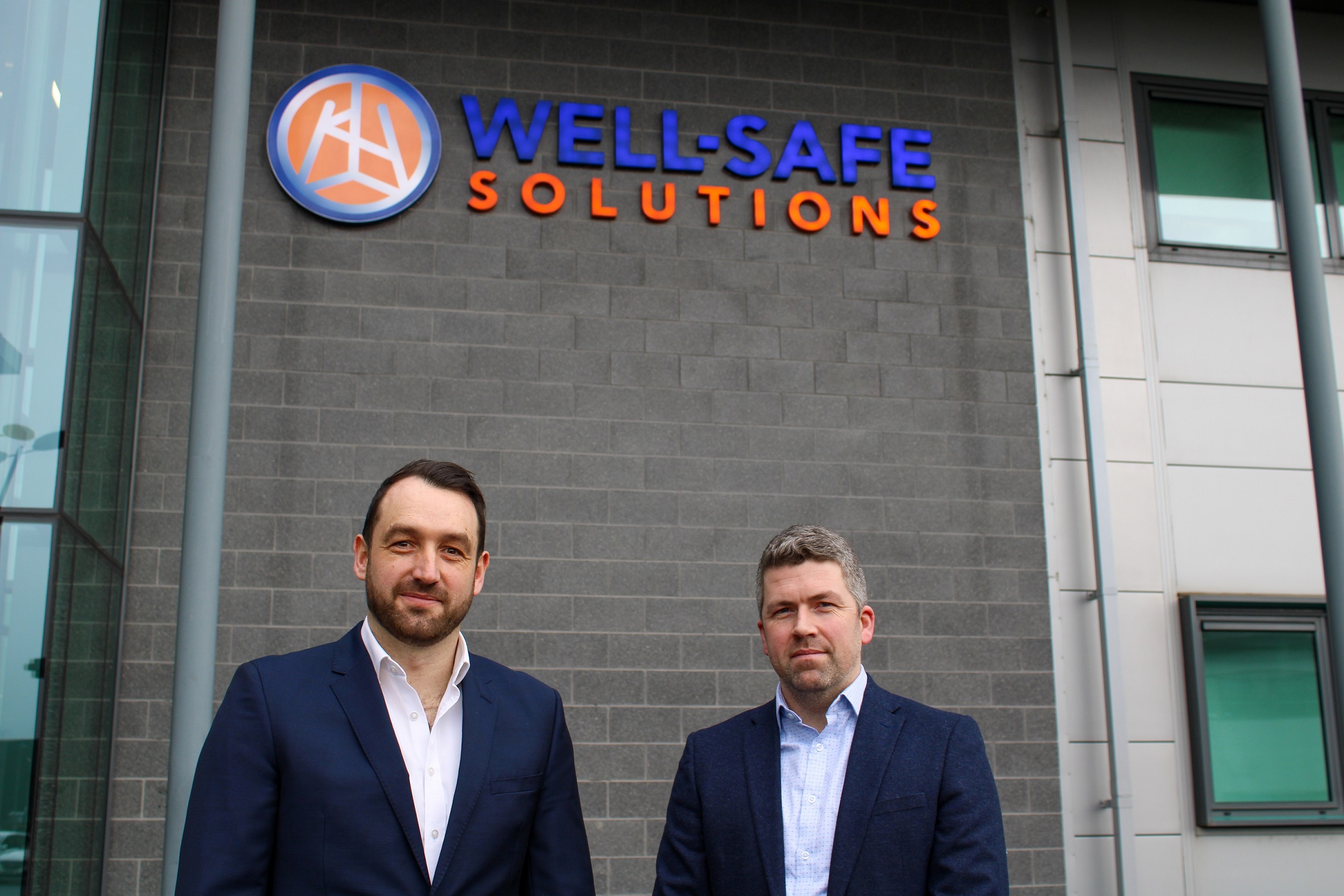 Pictured L-R: Thomas Barter, Head of Business Development – Renewables and Decarbonisation at PD&MS pictured with Christopher Hay, Director of Strategy & Business Development at Well-Safe Solutions.
Well decommissioning specialists Well-Safe Solutions have partnered with PD&MS Group to implement a Carbon Management Reduction Plan (CMRP) as part of the company's commitment to sustainable working practices.
The agreement will see international engineering solutions provider PD&MS Group assist Well-Safe Solutions in establishing an emissions baseline, before identifying and assessing opportunities to reduce its overall carbon footprint and optimise energy efficiency across the business.
PD&MS Group, who are also carrying out a CMRP for a range of energy majors, will appraise and produce recommendations for future improvements at all Well-Safe Solutions sites.
This will include the Well-Safe Guardian, Well-Safe Protector and Well-Safe Defender plug and abandonment assets and its Cove, Aberdeen global headquarters.
Andrew Murray, Sustainability Specialist at Well-Safe Solutions, said: "The CMRP is an exciting development for Well-Safe Solutions and is just one aspect of Well-Safe Solutions' wider environmental, social and governance (ESG) strategy implementation.
"This plan is part of a larger 'road map' enabling enhanced delivery of P&A projects as part of Well-Safe Solutions' promise to deliver safe, smart and efficient ways of working for its clients."
The CMRP is expected to take approximately three months to develop and complete and will identify opportunities to improve energy efficiency throughout the business.
It will examine a variety of elements including power, battery and heating systems, pumps, motors and drives, insulation, lighting and cooling.
The opportunities to reduce and decarbonise transport emissions when moving, crewing and supplying each vessel will also be explored as part of Well-Safe Solutions' drive to minimise its impact on the environment.
Simon Rio, CEO of PD&MS Group,  said: "We are thrilled to be partnering with Well-Safe Solutions to support them with the decarbonisation of their asset, helping to reduce their carbon footprint and optimise efficiency across their operations.
"We have over 14 years' experience in delivering carbon reduction solutions across multiple sectors and during this time, we have supported more than 500 businesses – resulting in an estimated cumulative carbon reduction impact of 1 million tonnes of CO2.
"We look forward to working with Well-Safe Solutions on this exciting CMRP scope and to growing a long-lasting relationship between our organisations"
Chris Hay, Director of Business Development and Strategy at Well-Safe Solutions, added: "Well-Safe Solutions is committed to a root-and-branch review of its working practices and assets in order to improve the sustainability of our business and better assist our clients through the energy transition.
"This productive working partnership with the experts at PD&MS will help us unlock even greater efficiencies as the business continues to grow internationally."