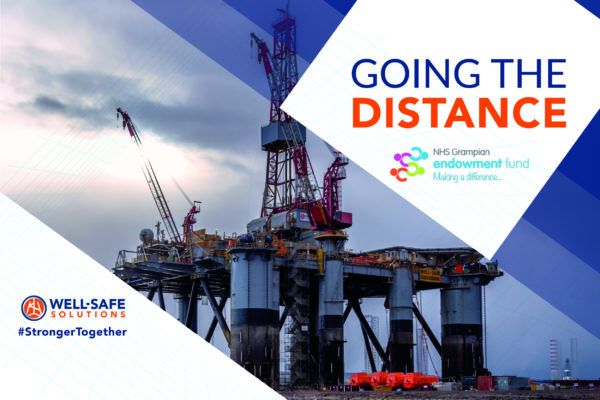 Well-Safe Team Raises over £2,500 for COVID-19 Fund
Spearheaded by the Well-Safe Guardian rig crew, Well-Safe Solutions banded together during the pandemic to raise money for the Covid-19 Fund created by NHS Grampian Endowment Fund.
Our asset, the Well-Safe Guardian, is currently homed in Invergordon and looked after by our dedicated, hard-working crew. If each member of this crew was to travel home and back again, between them they would cover 1,335 miles.  Passing through Elgin, Inverurie, Altens, Montrose, Fife, Peterborough, Milton Keynes, North Wales and Oban.
The team decided to cover this mileage onboard the rig by rowing, cycling or running in the gym facilities or by racking up the step count around the rig. With further help from our onshore support team, utilising their daily exercise time, we managed to surpass our target mileage in the 20 days, making it virtually around the UK, back to Invergordon and even adding on the extra distance to the Aberdeen, Cove office.
By doing this, the team managed to raise £2,681 towards the incredible Covid-19 Fund set up by the NHS Grampian Endowment Fund.
The local charity has been working tirelessly to support the frontline workers during this current crisis through:
– 'Comfort boxes' for the NHS Staff and charities (including essential       toiletries and basic foods)
– Providing hand cream for all workers whose hands are struggling following the rigorous cleaning.
– Providing barrier cream for the workers whose skin is struggling under the PPE face masks.
– Providing 200 iPads for hospitals with patients during end of life care. This allows them to say their goodbyes via video call where possible. It will also go towards care homes for elderly relatives to better stay in touch with family members who are unable to see them.
We hope this donation is able to help the charity continue their work in in the fight against COVID-19.